Worship
10:30 a.m. - Every Sunday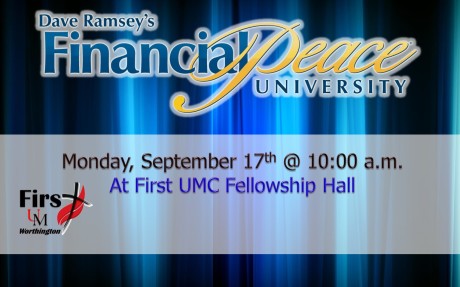 What if you were following a plan for your money
that you KNEW worked?
With Dave Ramsey's Financial Peace University,
you CAN take control of your money, get out of debt,
and create a plan for your future.
If you're interested in learning more about the group, message me!
Because we're offering it
at First United Methodist Church just for you
continuing on Monday's,
until November 5th at 10:00 a.m.
in the church fellowship hall.
(child care will be available free of charge!)
Kits are available in the church office at a reduced rate.
Rev. Dr. Daren Flinck - dflinck@gmail.com
Office Hours
Monday through Friday 8:00 am to 4:30 pm